Philanthropist, TV host, author, human rights and animal advocate,
Jean Shafiroff
 is featured on the cover
Resident Magazine
's Philanthropy issue. In the article,
"Jean Shafiroff: Fashion Icon and the First Lady of Philanthropy takes on a New Venture – a TV Show!"
, Jean discusses her weekly TV show,
Successful Philanthropy
. The weekly series airs 6 times per week on LTV East Hampton channel 20, as well as live stream through the LTV website, www.ltveh.org. The show also airs Friday nights at 8:30PM on MNN in Manhattan. The show highlights the work of philanthropic leaders across the USA.
Successful Philanthropy
is scheduled to air in new markets by the end of January 2021.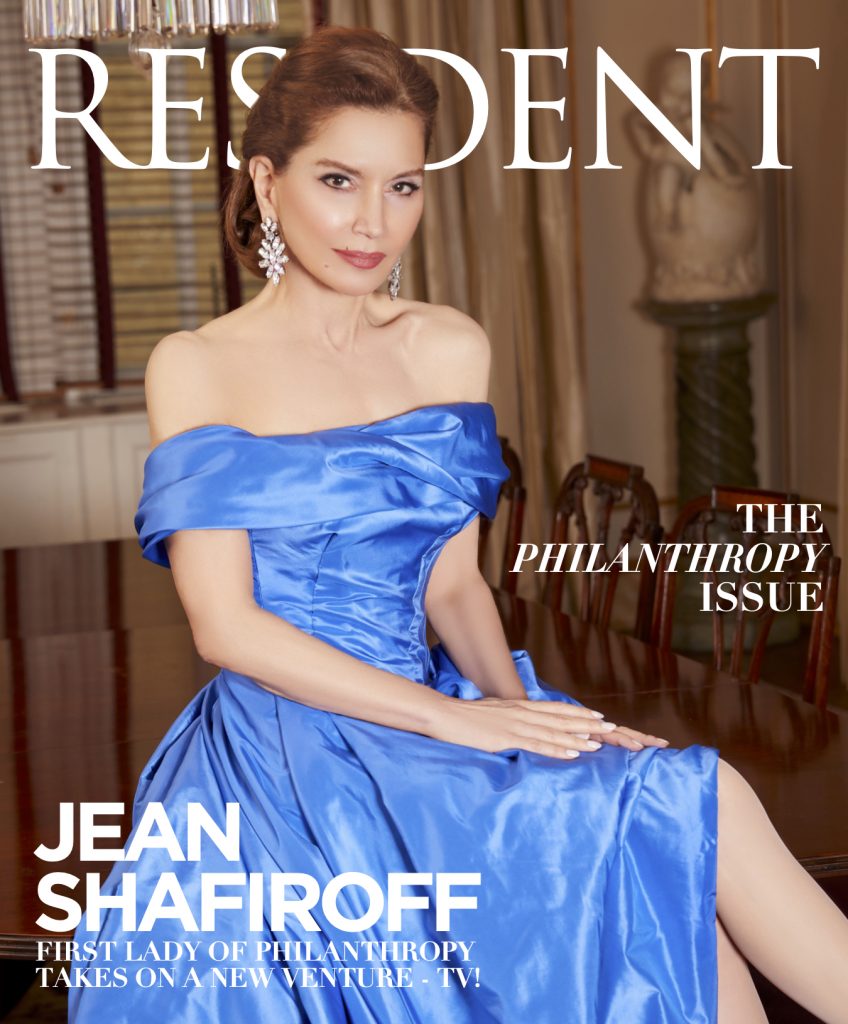 Jean Shafiroff is a philanthropist, human rights and animal advocate, TV host, writer, and the author of the book "Successful Philanthropy: How to Make a Life By What You Give". Jean is often referred to as "the first lady of philanthropy" by different publications because of her generosity and extensive work as a volunteer fundraiser and leader in the philanthropic world. She serves on the boards of many charities and each year  chairs  upwards of 8 different charity galas. Jean serves on the boards of the Southampton Hospital Association, NYC Mission Society. French Heritage Society, Couture Council of the Museum at FIT, Global Strays, Jewish Board (Honorary Trustee), and Southampton Animal Shelter Foundation Honorary Board. In addition, Jean is an Ambassador for the American Humane Society and serves as their  National Spokesperson for the Feed the Hungry Covid-19 program, an initiative designed to feed 1,000,000 animals. Jean is the Ambassador of the Southampton Animal Shelter Foundation and serves as an important donor and volunteer fundraiser for their work. She is a New York Women's Foundation Board Alumna who remains very active with the Foundation and women's issues. For her philanthropy, Jean has been honored many times– including by groups such the Stony Brook Southampton Hospital, American Heart Association, American Cancer Society, New York City Mission Society, Southampton Animal Shelter, Surgeons of Hope, Al Sharpton's National Action Network,  the Ellen Hermanson Foundation,  Youth Counselling League , the Jewish Board,  and the Hadassah. Jean is the producer and host of the TV show entitled "Successful Philanthropy " which airs 6 times a week through LTV studios in East Hampton, NY . Her show also airs in New York City each Friday night at 8:30PM on Manhattan Neighborhood Network (MNN): Spectrum Channel 34 and 1995, Verizon/FiOS Channel 33, and RCN Channel 82. In January 2021 her show is slated to open in additional markets. Jean is passionate about style and fashion and has appeared on many best dressed lists.  In 2018, she appeared on  the highly regarded LookOnLine.com international best dressed list along with a small group including Anna Wintour and Meghan Markle. Each year Jean is featured  on the cover of many different magazines for her philanthropy and style. She is the subject of many feature articles in magazines and newspaper articles. Hola and Hello Magazine both  named her the "first lady of philanthropy", a title which has remained and has been used by many publications when they refer to her. Jean holds two degrees:  a BS in Physical Therapy from the College of Physicians and Surgeons at Columbia University and an MBA in finance from Columbia Business School at Columbia University. She resides in Manhattan and Southampton with her family. For more information about Jean Shafiroff, please visit: 
www.jeanshafiroff.com/
F: jean.shafiroff | T: @JeanShafiroff | I: @JeanShafiroff @JeanShafiroffAtWork