The legendary
Russian Samovar Restaurant and Piano Bar
received rave reviews for its one and only "
Gypsy's Dream."
The one-hour show is performed every Friday at 9:00pm  and includes classic Gypsy ballads and dancers. The
Gypsy Fun Trio
consists of renowned musicians
Valery Zhmud, Andrey Solodenko
and
Sergey Pobedinsky
(Sergey is also the show's musical director). Russian Samovar manager
Vlada Von Shats
says of the show, "The incredible sound of the gypsies will touch your soul." Ukrainian violinist and vocalist
Valeriy Zhmud
is a graduate from Kyiv's University of Arts and Culture. Valeriy has worked with various folk and world music groups, including Kyiv's State Orchestra of Radio and Television. He has toured internationally as the soloist of Budmo, a Ukrainian folk ensemble, and performed in a variety of national and international music festivals. In 1998, after touring the USA and Canada, Valeriy decided to move to New York where he now lives and performs. Valeriy was the violinist in the Academy Award nominated drama film "August Rush". Accordionplayer and vocalist
Andrei Solodenko
is a New York City based musician and singer originally from Kiev, Ukraine. After graduating from music college at age 23, Andrei began working with his current band which has gone on to receive several international music awards. In 1991, Andrei emigrated to the United States to perform concerts and has since fully relocated working as a performer on stages across the country. Andrei's music has appeared in film projects such as Postoyannoe, The Demon, and Spy Games: The Black Witch Hunt.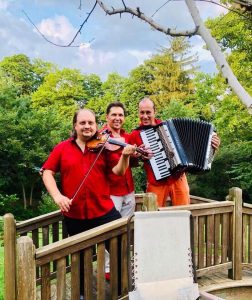 Guitarist and vocalist
Sergey Pobedinski
was born in Pyatigorsk, Southern Russia. A graduate of the Moscow Gnesin's Academy of Music, Sergeyhas performed widely in the USA, Russia, Finland, Ukraine, and France. He has performed at numerous international music shows in St. Petersburg, Moscow and Kiev, in addition to several Theaters and Cabarets in New York and other US states. Sergey's outstanding baritone voice perfectly captures the raw passion and feeling of folk- and traditional music. Sergey has performed in such diverse venues as the Chamber Jewish Musical Theater in Moscow, the Krasnoyarsk Musical Theater in Siberia, the Karelia State Musical Theater in St. Petersburg, and Carnegie Hall in New York. Sergey presently lives and performs in New York City.
Although tickets are not required for Gypsy's Dream, guests are advised to place dinner reservations in advance as the show has been performing to a full house.
Russian Samovar
is unique in its long-standing ties with the art community and has become a home for many famous Russian poets and writers who keep coming back for the exceptional dining experience. Owned by
Roman Kaplan
and managed by his daughter
Vlada Von Shats
and her two sons Michael and Nicholas, Russian Samovar offers some of the finest Russian cuisine in New York.
About Russian Samovar
Located in the Theater District, Russian Samovar boasts a 19th-century feel, complete with picturesque green and red shades and Russian folk prints. Ballet Legend Mikhail Baryshnikov and Nobel Prize winner for poetry Joseph Brodsky are former partners, and Cyndi Lauper and Liza Minnelli are known to stop by and offer the odd performance. The legendary location, formerly known as Jilly's Saloon, also used to be frequented by Frank Sinatra and The Rat Pack. The elegant establishment is famous for its 26 flavored vodkas prepared in-house, alongside its many Russian delicacies. Owned by Roman Kaplan and managed by his daughter Vlada Von Shats and her two sons Michael and Nicholas, Russian Samovar offers some of the finest Russian cuisine in New York. The restaurant, which seats 100 in the dining room and 50 at the bar, is the perfect location for private events. Its intimate upstairs lounge comfortably seats 34 for sit-down dinner, and 100 for standing buffet. Russian Samovar is a major supporter of the art community, with poetry readings held throughout the year and a classically trained pianist performs nightly. It features live interactive theatre every Thursday with award-winning actors, performance from Opera Singer Michael Peer on Mondays, Gypsy Fun Trio on Fridays and Saturdays on violin and guitar playing traditional Russian music, and Jazz Blues Brunch on Sundays with the Uptown Jazz Company.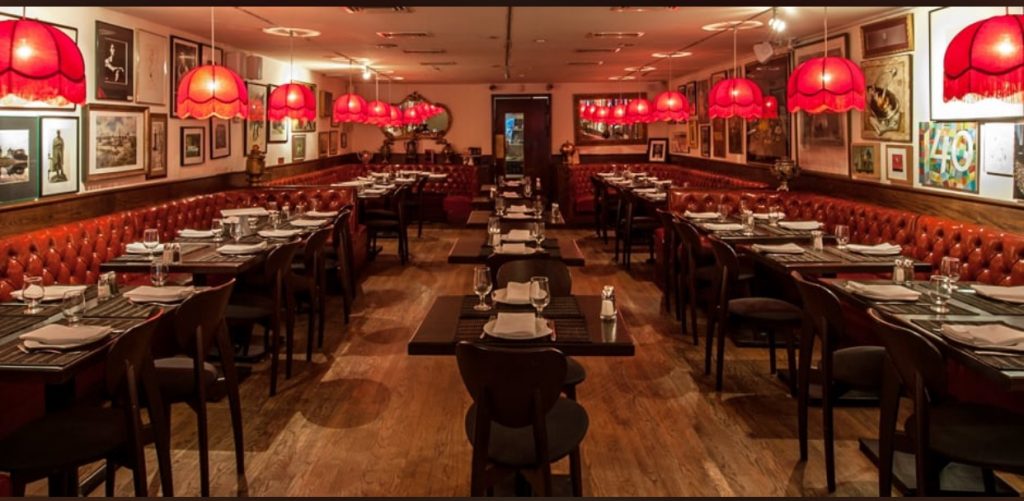 Russian Samovar Restaurant & Piano Bar
256 West 52
nd
Street (At 8
th
Avenue) New York, NY 10019 212-757-0168 Opening Hours: Monday                        5:00pm-2:00am Tuesday – Thursday       12:00pm-2:00am Friday – Sunday             12:00pm-4:00am The kitchen closes 12:00am Sunday-Thursday and 1:00am Friday and Saturday. For more information, visit
www.russiansamovar.com
Follow Russian Samovar on Social Media: Facebook:        RussianSamovarNY Instagram:        Russian Samovar Twitter:            @SamovarRussian