This Valentine's Day 2019, demonstrate your love by treating your special someone to an unforgettable dining experience. Here are some of the best dining ideas in New York and the Hamptons this February 14
th
, 2019.
New York, NY
MAMO NYC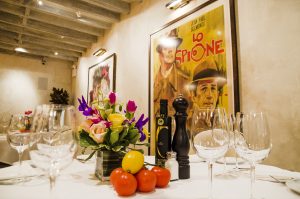 MAMO Restaurant, one of New York City's leading Italian restaurants, is back. The renowned SoHo restaurant celebrates the flavors and sensibilities of Italian cuisine and brings those to New York City. MAMO has reopened after a fire closed its doors this past Summer. While the unfortunate event could signal the end of many dining establishments or a departure to a new location, the team at MAMO, headed by restaurateur Mike "Mamo" Mammoliti and Executive Chef Salvatore Marcello, remained firm in the belief that the 323 W. Broadway location, its ambience, and the style of cuisine were a winning combination unrivaled by many. This Valentine's Day, MAMO NYC will delight couples looking to dine in a rustic chic atmosphere, with a Valentine's Day Prix Fixe menu including: Tonno e salmone scottati, lamponi e Carciofi (Seared tuna and salmon, artichokes, raspberries), Raviolini al tartufo, their signature fresh truffle raviolini, and Capesante arrosto, broccoli, cavolfiori, salsa all'astice (Roasted scallops, broccoli, cauliflowers, lobster sauce). MAMO is comprised of two distinct spaces, an intimate downstairs lounge and a comfortable 100-seated dining room upstairs. The multi-level space boasts rustic Provencal décor with old family images and movie posters that make guests feel instantly transported to the French Riviera. The extensive wine list includes hand-selected bottles from Italy and France, and the cocktail list features special concoctions with an Italian twist.
MAMO
323 West Broadway (Btwn Canal & Grand Sts)
New York, NY 10013
646-964-4641
www.mamonyc.com
~~~~~
Russian Samovar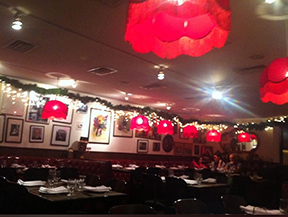 This elegant, lively, eatery is the perfect spot to celebrate Valentine's Day. Owned by Roman Kaplan and managed by his daughter Vlada Von Shats and her two sons Michael and Nicholas, this upscale establishment offers some of the finest authentic Russian cuisine in New York. Located in the Theater District, Russian Samovar boasts a 19th-century feel, complete with picturesque green and red shades and Russian folk prints. Aside from its authentic Russian dishes, it is known for its 26 flavored vodkas prepared in-house, including ginger, horseradish, lemon and cranberry. Delectable appetizers include Beluga and Osetra caviar, Blinis filled with salmon or caviar, the Assorted Fish Platter (in-house cured Salmon Gravlax with dill, Smoked Atlantic Salmon and Smoked Butterfish), Vol-au-Vent (a wild mushroom puff pastry), traditional Borscht, a Pate Russe laced with brandy, and Pelmeni Stroganoff, veal or chicken with sirloin tips in a creamy mushroom sauce. It is its signature entrees, however, that have put Russian Samovar on the culinary map. House specialties include Shashlik Karski (rack of lamb marinated in Georgian spices), Beef Stroganoff, Veal Pojarksi (ground veal and breast of chicken cutlets), Chicken Kiev and Pelmeni (veal, beef and chicken dumplings).
Russian Samovar Restaurant & Piano Bar
256 West 52nd Street (At 8th Avenue)
New York, NY 10019
212-757-0168
www.russiansamovar.com
~~~~~
Demarchelier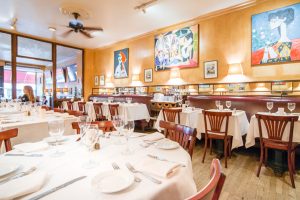 A Taste of the City of Love, Authentic French Bistro Demarchelier, owned by artist Eric Demarchelier (brother of famed fashion photographer Patrick Demarchelier), is sure to impress your date this Valentine's Day. Demarchelier brings a little piece of France to New York City. Every meal that leaves its kitchen aims to capture the essence of authentic French bistro fair. The family owned and run Upper East Side restaurant radiates a comfortable, colorful, warm and familial spirit that has made it a neighborhood fixture for a quarter-century. Ideal for a quick bite to eat, a romantic rendezvous, or a simple family meal. The traditional menu is paired perfectly with a wide range of predominantly French wines. This Valentine's Day, Demarchelier is serving a special Prix Fixe menu for you and your loved one at $48 per person: Appetizer, Salmon Pastrami or Terrine de Foie Gras; Main Course, Lamb Chops with String Beans and Tomato Provençal or  Filet of Halibut with a Sorrel Sauce; Desert, Valentines Cake served with a complimentary choice of Prosecco, Chardonnay or Merlot
Demarchelier
50 East 86th Street, (Between Madison & Park Ave)
New York, NY 10028
212-249-6300
www.demarchelierrestaurant.com
~~~~~
Bobby Van's The Original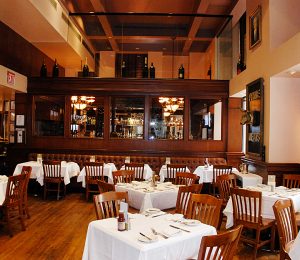 For the steak lover, visit esteemed Bobby Van's Steakhouse this Valentine's Day. Bobby Van's has earned its place as a venerable New York dining institution, thanks in part to a continued commitment to cooking techniques perfected years ago by the founding fathers of New York steakhouse cuisine. Celebrating its 50th Anniversary this 2019, Bobby Van's grew from its original home in Bridgehampton to their first New York location near Grand Central Station "The Original" and now includes a repertoire of fine restaurants that offer the refined style of a classic New York City steakhouse. Bobby Van's a la carte menu features favorites such as Crispy Calamari, Lemon Pepper Shrimp and Maxie's Meatballs for Starter and Veal Milanese, Chilean Seabass and N.Y. Sirloin Steak for Entrée. The restaurant also offers a wide variety of dining options outside of prime beef and seafood, including supremely-prepared pastas, wood-fired pizzas and freshly tossed salads. To accompany the meal, diners have a choice of delicious sides, which include Cauliflower Carbonara, Thick Cut Applewood Bacon and Sautéed Mushrooms.
Bobby Van's The Original
230 Park Avenue
New York, NY 10169
212-867-5490
www.bobbyvans.com
~~~~~
T-Bar Steak & Lounge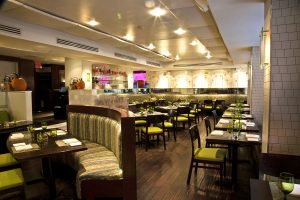 T-Bar Steak and Lounge is the popular spot for couples looking for a romantic dinner with outstanding cuisine in a casual yet elegant space. The restaurant's charm is brought to life by a stylish, dark-wood accented dining room, frosted glass details and subtle back lighting. This Valentine's Day under the watchful eye of Restauranteur Tony Fortuna, T-Bar will offer its regular a la carte menu, which features its signature prime beef steaks along with a mélange of grilled fish, chopped salads and pastas. Swoon over the decadent desert menu crafted by Executive Chef Ben Zwicker, which includes the famous Banana Parfait Mille Feuilles with coconut and caramel sauce.
T-Bar Steak & Lounge
1278 Third Avenue
New York, NY 10021
212-772-0404
www.tbarnyc.com
~~~~~
MarieBelle New York & Cacao Bar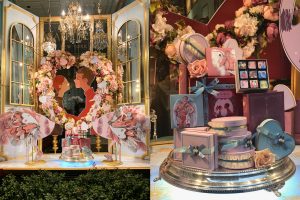 In New York's famous Soho District is the world-renowned, luxurious bean-to-bar chocolate company, MarieBelle Chocolates. This winter the flagship retail location at 484 Broome Street offers patrons a sumptuous shopping experience for the eyes and appetite with lavish window displays which aim to warm the heart. MarieBelle Chocolates' signature artisanal ganache, lavish truffles and tantalizing chocolate bars are promptly placed throughout to inspire the appetite for giving and eating this Valentine's Day. Nestled at the back of the Soho store is the Cacao Bar which features a menu of desserts and pastries perfect for any tea time in addition to their exceptional hot chocolate drinks to enjoy this season. MarieBelle New York is artfully wrapping and customizing luxury candy confections. Relish in the sweetest gift for any occasion, available in-store or delivered same day anywhere in the Manhattan area. Also this Valentine's Day, MarieBelle has the sweetest gift for that special chocolate lover in your life with their Valentine's Day Lace Collection. MarieBelle's new Valentine's Lace Collection of ganache boxes is accentuated by a soft pastel pink, enchanting lace details and closed with a delicate lacy garter that would make Marie Antoinette proud.
MarieBelle New York
484 Broome Street
New York, NY 10013
212-925-6999
www.mariebelle.com
~~~~~~~~~~
Southampton, NY
Union Cantina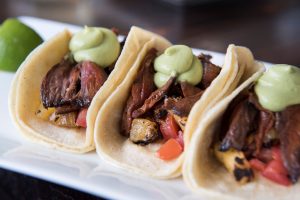 For those who spend Valentine's Day in the Hamptons, Union Cantina offers a romantic, intimate atmosphere, combined with a modern Mexican menu crafted by award-winning Executive Chef Scott Kampf. The year-round eatery sits in the iconic Bowden Square, and features a festive atmosphere, combining dark woods balanced by the bright cerulean colored walls, which are also decorated with Mexican artwork. Valentine's Day couples craving Mexican with a spin will enjoy Union Cantina's A La Carte Menu, featuring delectable dishes such as Avocado Fries, Hearts of Palm Salad, Baja Tacos, Skirt Steak Tacos, Spicy Guava BBQ Baby Back Ribs, Adobo Chicken Deconstructed Enchilada and Charred Shrimp. Do not miss the popular Guacamole En Molcajate, prepared mild or spicy. A selection of Chef Specialties will also be offered on the day. Union Cantina's winning Everyday Happy Hour is offered as usual from 3:00pm to 6:00pm. If you and your special someone are fans of delectable hamburgers, Union Cantina recently opened their all-new Union Burger Bar. The restaurant extension is co-located with the contemporary Mexican restaurant, offering an assortment of specialty gourmet burgers, fresh hand-cut fries, maniacal milkshakes & desserts and of course an elaborate craft beer and small batch bourbon selection. Union Burger Bar is first come, first served, no reservations, and is open for both lunch and dinner.
Union Cantina
40 Bowden Square
Southampton, NY 11968
631-377-3500 www.unioncantina.net