Where to Host Your Annual Thanksgiving & Friendsgiving Celebrations
This year, festive alternatives to a traditionally prepared Thanksgiving feast at the family table include New York City's hottest dining destinations. Instead of celebrating the holiday and harvest domestically, venture outside the home for unique happenings in lively spaces, exclusive gatherings in chic private rooms and be surrounded by the festive residents of New York City.
Here are the gourmet dining establishments that have set their tables to welcome your family and friends for Thanksgiving!
T-Bar Steak & Lounge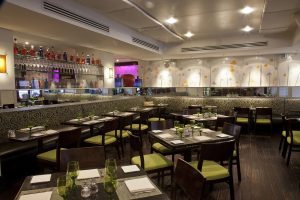 This Thanksgiving, the T-Bar Steak & Lounge crafts a hearty selection of New American entrees on the authentic steakhouse menu and raw bar. Famous for hosting New York City's power players, the sophisticated Upper East Side eatery offers outstanding cuisine in a sleek and comfortable setting. T-Bar welcomes family and friends to enjoy their sophisticated Thanksgiving affairs.
T-Bar redefines the steakhouse experience with a masterfully crafted Steak Bar featuring Filet Mignon, Aged NY Strip Steak, Aged Bone-in Rib Eye, Black Angus Porterhouse (for two) seasoned with Kosher salt and black pepper and served with your choice of steak sauce, bearnaise sauce or poivre sauce. Alongside the perfectly-prepared dishes, an extensive cocktail list and selection of fine wines complement any meal dining at the upscale restaurant.
T-Bar Steak & Lounge will serve a robust prix-fixe Thanksgiving menu at $78 per person ($39 for children under 12) with seating times reserved for 1:00 P.M., 4:00 P.M. and 7:00 P.M.
T-Bar Steak & Lounge, 1278 3rd Avenue, New York, NY
Open on Thanksgiving Day: Seatings at 1:00 PM, 4:00 PM, and 7:00 PM only
For reservations and more information, visit http://www.tbarnyc.com/
Facebook: TBarNYC
~~~
Greenwich Steakhouse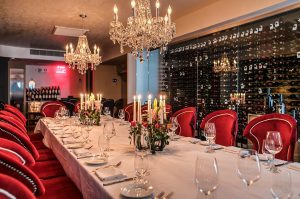 For a uniquely upscale Thanksgiving celebration, Greenwich Steakhouse in West Village offers guests a Traditional Turkey Special among signature menu selections, dry-aged steak options and an extensive bar menu to complement. For an authentic steakhouse experience, the three-story restaurant boasts masterfully crafted and flavor-filled cuisines, multiple dining experiences in one, and an enjoyable atmosphere made comfortable by an attentive waitstaff.
Under the direction of owner Frank Gocaj and culinary legend, Executive Chef Victor H. Chavez, Greenwich Steakhouse offers guests a polished preparing of seasonal cuisines and a classic steakhouse menu. For the holidays, family and friends can host exclusive events, private gatherings or intimate celebrations in the luxurious private room, on the third floor, that comfortably seats 35 along–your choice of–a banquet table or surrouding several round tables.
The casual dining room on the first floor features white brick walls, a marble bar countertop, and turquoise, T-backed, studded bar seats. The modern appearance of the main dining floor, on the second level, features indirect ceiling lights which showcases the beautiful mural paintings from wall-to-wall. Greenwich Steakhouse's three floors brings to life an exquisite dining experience suitable for a variety of Thanksgiving celebrations.
Greenwich Steakhouse, 62 Greenwich Avenue, New York, NY
For further information, please visit: www.greenwichsteakhouse.com/
F: GreenwichSteakhouse | T: @GreenwichSteak | I: @GreenwichSteakhouse
~~~
La Pulperia Restaurants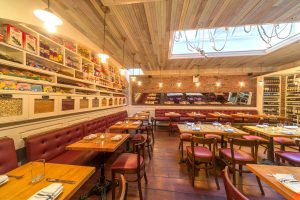 La Pulperia Restaurants Upper East Side and Hell's Kitchen locations will host festive celebrations of the Thanksgiving holiday. The rustic Latin American and seafood menu with contemporary influences boast festive fare and seasonal specials that New Yorkers will enjoy for Fall's biggest celebration. Award-winning Executive Chef Carlos Barroz has received an Open Table Diner's Choice Award for his simple but refined cuisine with traditional culinary influences.
Enjoy your seasonal servings with an appetizer of Crab And Sweet Potatoes Croquettes created with lump Maryland crab meat, Oaxaca cheese and red beet aioli. Lemon-Lime Roasted Turkey Breast include creamy brussels sprouts, poblano rajas gratin and lemon-lime gravy. Indulge in the Apple Pie With Dulce De Leche Ice Cream for a deliciously complete meal.
La Pulperia offers a modern, trendy spin on Latin American food at its two locations on the Upper East Side and in Hell's Kitchen's Restaurant Row. This Thanksgiving, La Pulperia Restaurants brings the restaurant's uniquely modern take on cuisine to the traditional feast.
La Pulperia Hell's Kitchen, 371 West 46th Street, New York, NY
Open on Thanksgiving Day: Dinner, 4:00 PM-10:00 PM
For reservations and more information, visit http://www.pulperianyc.com/
La Pulperia Upper East Side, 1626 2nd Avenue, New York, NY
Open on Thanksgiving Day: Lunch and Dinner, 4:00 PM-10:00 PM
For reservations and more information, visit http://www.pulperianyc.com/
Facebook & Twitter: PulperiaNYC| Instagram: LaPulperiaNYC
~~~
Demarchelier Restaurant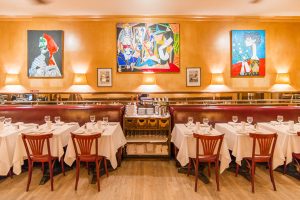 If there is anywhere to dine with your family on Thanksgiving, it is at the family-owned and -operated Demarchelier Restaurant. The cozy French bistro was reopened on 86th Street over 25 years ago by artist Eric Demarchelier, brother of famed fashion photographer Patrick Demarchelier, and has remained New York City's little piece of France ever since. Under the management of Eric's daughter, Emily Demarchelier, the restaurant attracts a loyal clientele who come for both the authentic French cuisine and the warm, familial hospitality.
Classic French dishes, served a la carte, will be featured on the Demarchelier menu alongside specialty prix fixe. The palatable journey through France starts with an appetizer including Terrine de Foie Gras with Toast Points. Enjoy a traditional Thanksgiving meal which includes Roasted Turkey Breast served with stuffing, cranberry sauce with a side of mashed potatoes, broccoli and baby carrots. Sweet treats from the decadent dessert menu includes a delicious Pecan Tart or Pumpkin Pie.
Affectionately known as an intimate gathering space for art lovers, family and friends will love Eric's artwork lining the walls of Demarchelier Restaurant.
Demarchelier Restaurant, 50 East 86th Street, New York, NY
Open on Thanksgiving Day: 12:00 PM-8:00 PM
For reservations and more information, visit http://www.demarchelierrestaurant.com/
Facebook: Demarchelier-Restaurant | Instagram: @DemarchelierRestaurant
~~~
Russian Samovar
For a Thanksgiving celebration steeped in Russian culture, New York City history and the performing arts, Russian Samovar, located in the Theatre District, will be serving its traditional Russian fare with featured turkey, duck and goose specialty dishes. The elegant restaurant, owned by Roman Kaplan and managed by his daughter Vlada Von Shats and her two sons Michael and Nicholas, is famous for its Russian delicacies but boasts an enviable legacy unlike any other dining establishment.
The legendary location, formerly known as Jilly's Saloon used to be frequented by Frank Sinatra and The Rat Pack, under former owners Ballet Legend Mikhail Baryshnikov and, his partner, Nobel Prize in Literature winner Joseph Brodsky. Cyndi Lauper and Liza Minnelli were also known to drop-in to perform for a jubilant dinner theatre crowd.
Throughout the holiday season, family and friends can enjoy Russian Samovar's time-honored history and the exceptional ambiance which embodies a 19th-century feel, complete with picturesque green and red shades and Russian folk prints.
Russian Samovar Restaurant & Piano Bar, 256 West 52nd Street (At 8th Avenue) New York, NY
For more information, please call 212-757-0168 or visit www.russiansamovar.com
F: RussianSamovarNY | I: Russian Samovar | T: @SamovarRussian
~~~
A Hamptons-style Thanksgiving
Southampton Inn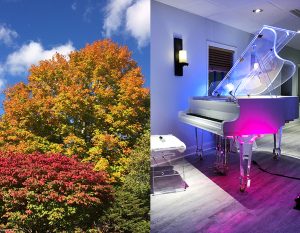 For family and friends planning to celebrate on the East End, a Hamptons-style Thanksgiving awaits at the Southampton Inn and Claude's Restaurant. For an intimate gathering or signature celebration, Claude's Executive Chef James Carpenter and staff will provide a 3-course traditional feast with all the trimmings and Carpenter's award-winning desserts. Dinner is $40/adult, $25/child, with seating from 1:00 P.M.  to 6:00 P.M. The Inn also offers a Thanksgiving getaway package for two for $265, which includes an elegant guest room, the feast and breakfast at Claude's on the Friday, November 23rd, 2018. Stay an extra evening on the Wednesday, the 21st for the discounted rate of $100. The Inn has several adjoining rooms for families and groups.
Additional hotel and dining packages starting in November include a $250 Autumn Getaway for two, with an overnight guest room, 3-course dinner and breakfast the following morning at Claude's; and a $160 Veterans Month package for two, with an overnight guest room and breakfast at Claude's the following morning.
During a stay at the Inn, guests can enjoy shopping, galleries, museums and the theatre in the historic Southampton Village, Parade of Lights down Main Street and the Tree Lighting in Agawam Park on November 24th, 2018 or a relaxing walk on the world-famous Cooper's Beach. For some pampering after visiting nearby wineries, stop at the spa, located across from the Inn's entrance, for a $60 one-hour massage. Others can lounge at the Inn next to the fire or take in Claude's great entertainment lineup, including Konstantin Soukhovetski's Piano Cabaret on November 9th and 11th. It'll be fun music, some improv, food by Chef James, and the sounds of the amazing, acrylic baby grand piano from Euro Pianos Naples. Whatever they choose, the Southampton Inn and Claude's offer award-winning experiences year-round, voted by patrons as "Best Hotel" to stay, and Claude's Restaurant has already gathered praises from foodies including "Diner's Choice," "Best Burger," and "Best Dessert."
For the latest packages, deals and rates, please call 631-283-6500, or visit southamptoninn.com. We look forward to welcoming you at the Southampton Inn!
Southampton Inn & Claude's Restaurant, 91 Hill Street, Southampton, New York
Facebook: @SouthamptonInn | Instagram & Twitter: @Southampton_Inn